Below are listed our upcoming events.
Heatherwood's Holiday Blood Drive
December 19th, 2023
Step into the season of giving at Heatherwood Senior Living with our heartfelt Holiday Blood Drive, in partnership with the American Red Cross. Your generous donation can provide the gift of life to those in need.
Donor Appreciation:
Complimentary Red Cross T-shirt – A special gift for each donor as a thank you for your lifesaving donation.

Heatherwood's Thank You Gift – We're also giving a special gift to show our appreciation for your generosity.

Food and Refreshments – Enjoy free ice cream and hotdogs as you help make a difference in someone's life.
How to Sign Up:
Visit Red Cross Blood Donation

Enter the zip code: 83705

Scroll down to December 19th and click on Heatherwood.

Choose your preferred time to donate blood and be part of this noble cause.

 
This event is open to the public, so bring your friends and family along to enjoy the day with us. Your donation can provide a vital lifeline to patients in need.
Date: Tuesday, December 19th, 2023
Time: 9:00 am – 2:00 pm MNT  
Location:  5277 W Kootenai ST. Boise, ID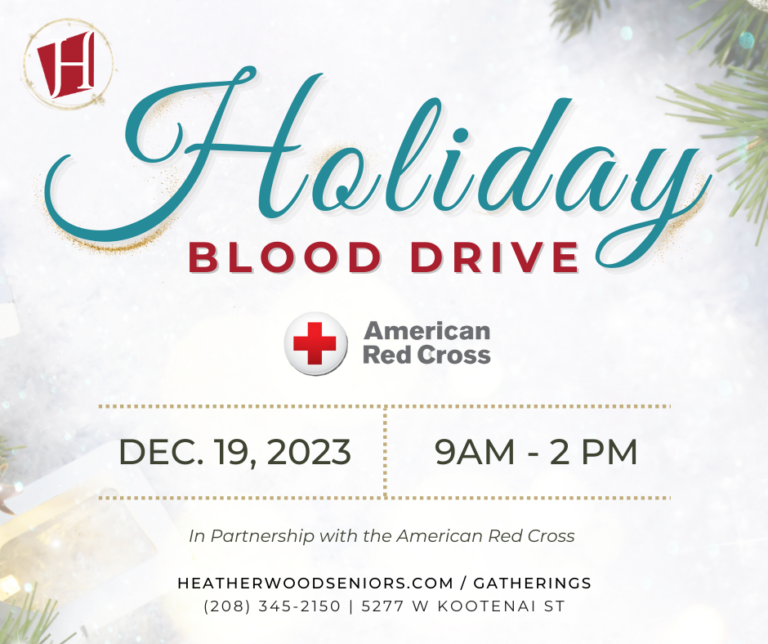 Salute & Dine: Heatherwood's Veterans Day Tribute Dinner
* Past Event 
Join us at Heatherwood for a heartfelt tribute to our nation's heroes this Veterans Day! We're inviting the entire community to gather around the table on November 11th for a special dinner honoring those who've bravely served in our armed forces. In a token of our gratitude, veterans will enjoy their meals on the house. 
Don't miss this opportunity to share stories, celebrate our heroes, and simply say thank you.
Space is limited, and your RSVP is essential to secure a spot at this meaningful event. Please RSVP to confirm your attendance by reaching out to Cindy at
CindyE@HeatherwoodSeniors.com
or calling 208-345-2150. We look forward to paying homage to our veterans' service and sacrifice with you.
Cost: $10 per meal ticket – purchased at Front Desk upon entry
Date: Saturday, November 11, 2023 
Location:  5277 W Kootenai ST. Boise, ID
Time: 4:30 to 6:00 pm MNT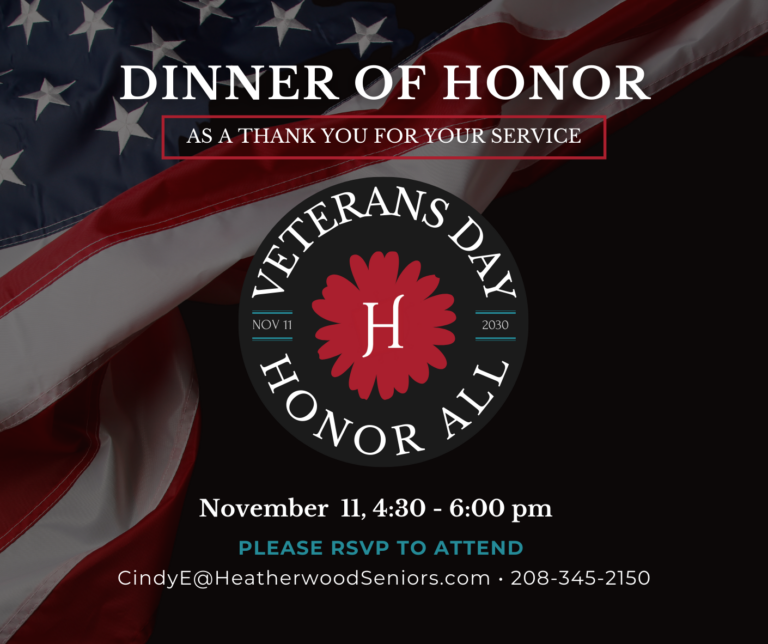 Heatherwood Halloween - Trick or Treat
* Past Event 
Join us Tuesday, October 31st from 6:30 to 8:00 pm as our Heatherwood community transforms into a festive Halloween haven. Delight in the simple pleasures of crunchy popcorn and warm refreshments as you meander through our tranquil, traffic-free corridors.
This isn't just any trick-or-treating event — it's a chance to bring together generations, letting young spirits roam freely and elder hearts bask in the joy of the season. Our community eagerly await the cheerful buzz of family fun!
Date: Tuesday, October 31, 2023 
Location:  5277 W Kootenai ST. Boise, ID
Time: 6:30 to 8:00 pm MNT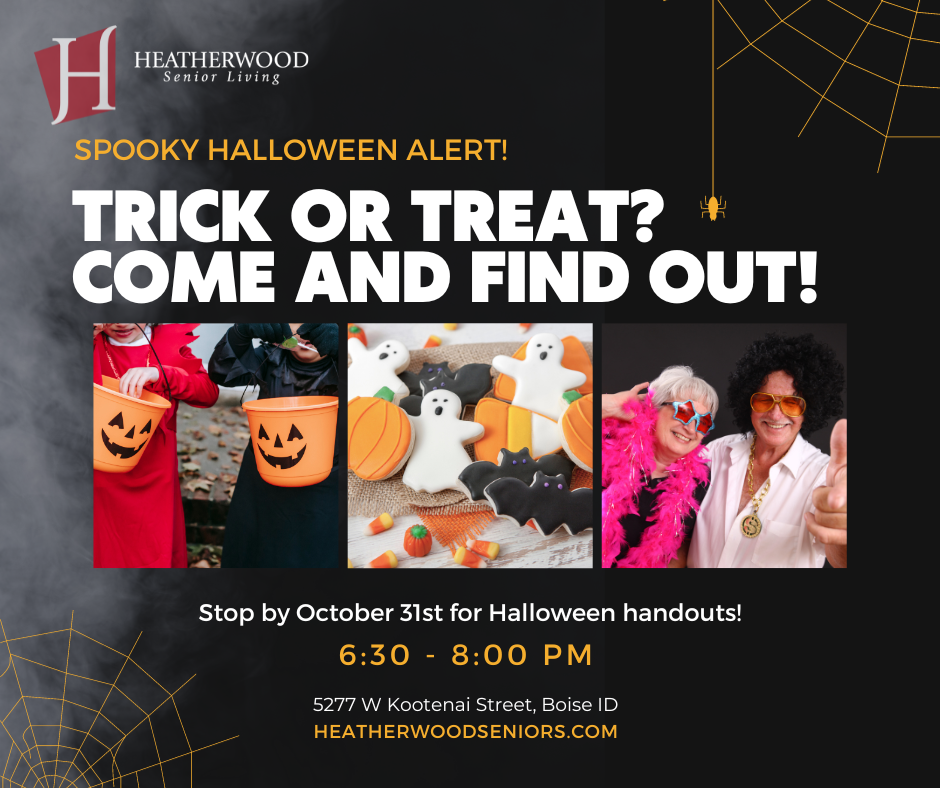 Art in the Yard 2023 - Open House
* Past Event
Celebrate the joy of creativity at Heatherwood's second annual Art in the Yard! Join us for the Grand Celebration Open House event on Thursday, Sept 28th.
While you're here, indulge in a complimentary slice of pie and coffee in the dining room. Let's come together to honor our residents' exceptional talent at this year's community exhibit of artwork and creation!
Date: Thursday, September 28, 2023
Location: 5277 W Kootenai ST. Boise, ID
Time: 3:00 to 7:00 pm MNT

Heatherwood Summer Social - Friday, July 29
Join us Friday, July 29 for an afternoon Summer Social event with our active Heatherwood community!
All are invited, and residents are encouraged to bring their friends and family members to this all ages event. Staff will also be in attendance as well as our surrounding neighborhoods.
Event social activities include:
Live band performance by SWING SHIFT
Cake Walk activity, with all proceeds donated to a Military Non Profit
Local food trucks & snack stations
Face painting and bounce house for kids
Market bazaar with homemade goods
Free to attend for all, we look forward to an afternoon of fun together!
Location: 5277 W Kootenai ST. Boise – Outdoor parking lot & front lawn
Time: 3:00 to 6:00 pm MNT
Contact us at (208) 345 – 2150 if you have any questions!

Community Vendors
Welcome all community vendors of Summer Social 2022!
We want to extend a warm welcome to all Treasure Valley business participants. We are excited for an afternoon of connecting, shopping, and exploring your local business.
Click to watch video for full vendors list: