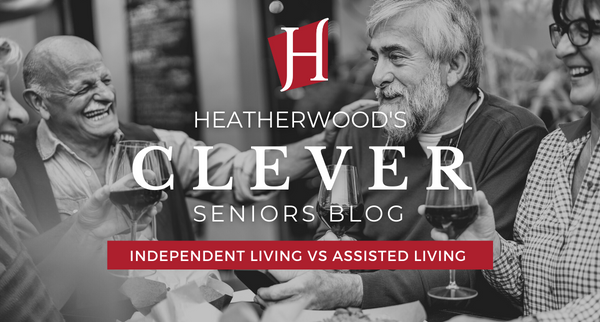 When it comes time to explore senior living options, trying to find the best living choice can seem overwhelming. With the right information, it can be a much easier process. Independent living or assisted living is generally the first place to begin the search. It is important to be aware of the difference between the two.
Comparing Independent Living & Assisted Living:
Independent Living (IL)
An independent community's primary focus is on serving the social needs of residents coupled with a low-hassle and low-maintenance lifestyle. In other words, rather than spending time weeding the yard or cleaning the house, time can be spent enjoying a glass of wine while listening to a live band or playing games.
Independent living is the right choice for seniors who are still able to live on their own, wish to live near people within the same age range, and want to take advantage of the sense of community. Independent living allows for the freedom and flexibility to do whatever you like, with the bonus perks such as dining services, housekeeping, laundry, transportation, activities, entertainment, and exercise programs.
Assisted Living (AL)
Assisted living facilities are for individuals that require daily aid with one or more activities, such as managing medications, bathing, dressing, driving, or arranging transportation, or managing household chores. Three meals a day are provided, and the facility is staffed 24/7 with employees, including medical staff, ready to help residents if they need it.
AL communities also provide transportation, housekeeping, and laundry services, along with a range of social and lifestyle opportunities. Residents can still decide how they would like to spend their time every day, with activities supported by licensed nurses and aids who are available 24 hours a day. Though residents have help with everyday tasks, they also have the freedom to socialize and pursue their interests just as they always have.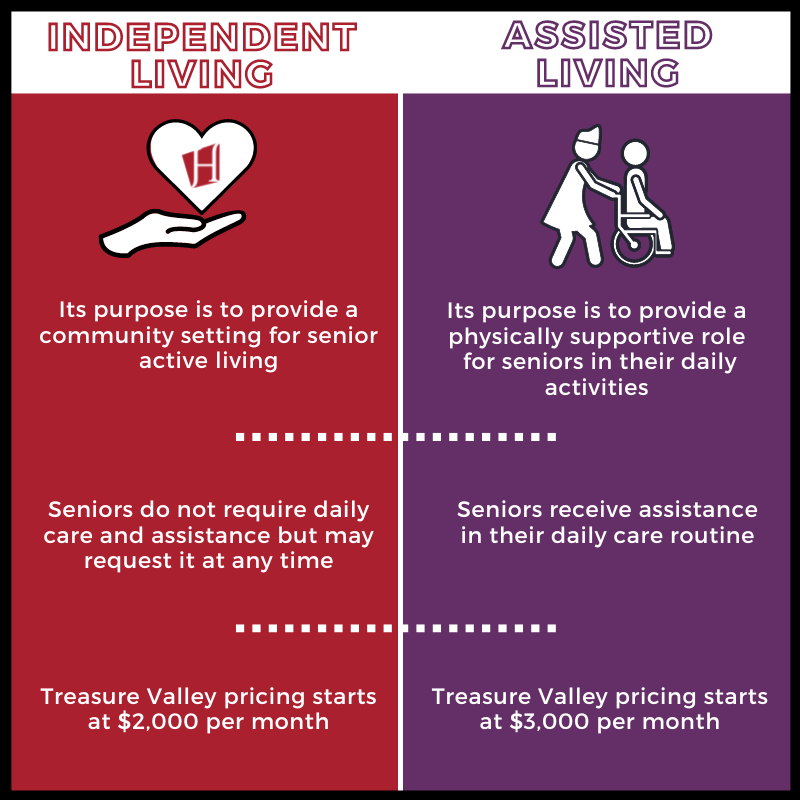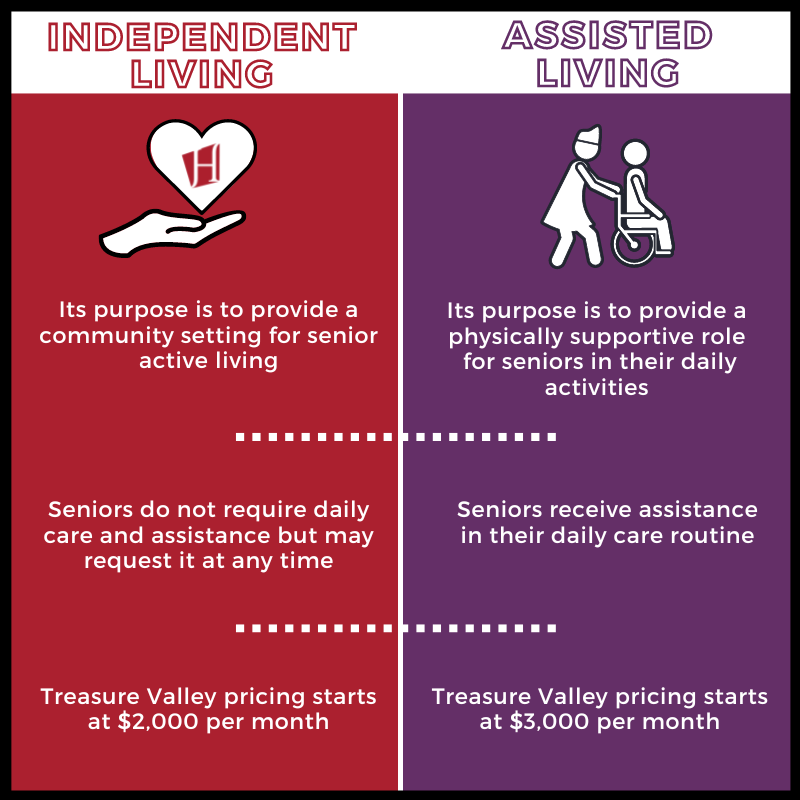 Cost Breakdown:
When you move into a senior independent living community, you can say goodbye to household bills. Taxes, utilities, and even cable are included in your monthly fee as well as weekly housekeeping, meals, and all campus events and amenities. All you pay is your phone, so it's very affordable. The average cost of senior independent living in the US is between $2,000 to $5,000 per month, but varies widely depending on several factors like location, services, and amenities. 
Assisted living communities generally have a monthly cost ranging from $3,000 to $8,000 with hospitality and care services available for an additional monthly fee. It is very important to ask each facility about its pricing structure. Many AL facilities charge one, all-inclusive monthly fee while others may charge a standard fee for room and board, but bill residents and their families for services on an as-used basis. If that is the case, it can be difficult to predict monthly and yearly costs. If you are on a set budget, it may be beneficial to choose a community with a more standardized pricing structure.
Questions to Ask Yourself when Choosing:
• What activity level is best? 
In independent living (IL), seniors choose what they prefer to be involved in. They schedule their rides, activities and choose groups to interact with. IL residents often choose activities happening in the local communities and outside venues.
In assisted living (AL), activity may be restricted by physical limitations, driving impairments or transportation level. Social activities are available at facilities though most occur in-house.
• Do you / your loved one need help with health care? 
IL communities do not provide health care or assistance with daily living (i.e., medications, showering, dressing). If needed, residents can use third-party home healthcare services of their choice, but residents continue seeing their chosen doctor, dentist, optometrist, etc.
AL provides a nursing element to help with medications and incontinence care. They are also equipped with the resources to monitor residents constantly, ensuring that they are safe at all times.
• Do you / your loved one require monitoring? 

IL provides 24hrs concierge services for residents to access when needed. This on-call support available day and night provides peace of mind, knowing support services are there incase a crisis occurs.
In AL, daily checkin's are provided. Families can be at ease knowing their loved ones are in a care focussed community who are prepared to prevent or handle a crisis. Also, assisted living communities are equipped with the resources to monitor residents constantly, ensuring that they are safe at all times.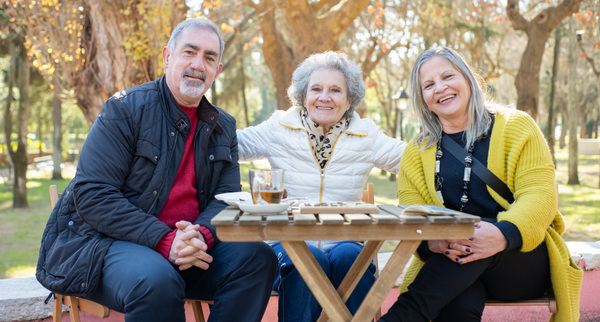 Conclusion
In the end, the choice between independent living and assisted living is often determined by the needs of the senior. Care needs often change, so it is a good idea to take this into consideration when looking at your options.

If you are seeking a low-maintenance lifestyle complete with new opportunities, IL is the perfect start. Its vibrant community focus helps to kick loneliness to the curb while boosting mental and physical health.
For questions on whether independent living or assisted living is the right choice for you, give us a call at 208-345-2150.